Diseño Clave. Diseñamos, desarrollamos y hacemos marketing online para tí.

Creamos identidades únicas, limpias e inolvidables para el que las ve.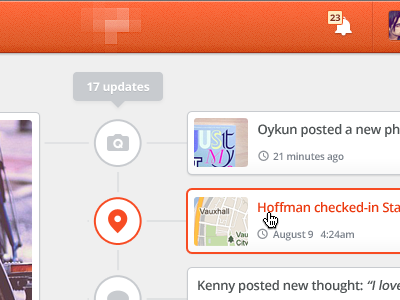 Hi friends, Here is how timeline for updates mostly likely will look like at homepage. Group cover block at the left, and updates for it at the right. "17 updates" appears only when you move mouse over any update block. Second update block shows hover state. Actually this is an early stage design, things will most likely move around. I'm working on this at the moment, and wanted to share as Dribbble tells us : ) Btw, the pixelated thing at top is logo. I must hide it for now. Comments are much appreciated! Cheers, I ♛♕♛ at Twitter.
What is that tetris like thingy in the orange bar? Is it mosaic'ed out, or an actual piece of UI? I kinda like it! BTW, that subtle texture/noise in the bar is really nice!
@Yummygum lol! Tetris :) Yes it actually does look like that! not on purpose though. It is actually logo, I had to pixelate for now, can't share it yet. Btw thanks!
Not super stoked on the alternating left & right. Depending the context of this design whether it is a web app or it is a mobile intended app... you should alternate it more balanced like, or do one side and justify the timeline to one side.
@Oykun funny how the pixelated icon actually works in the design Looks great and I'd love a real pixel version to be shown so we can see the entire thing
So clean & minimal - I love it! Only thing would be better - more contrast at the tooltip ;)
@Nick Sloggett I think the orange is just to indicate the mouse-over, rather than an alternating colour. @Oykun Looks great, I love the orange and the icons. Nice and clean.
I love this orange.